Tracking and monitoring project can be a nightmare without the proper set of tools. Everyone has their own set of tools that they use on a daily basis, and it all depends on how you work.
Personally, I like using a dual monitor setup. One screen is for email, todo, tasks, etc and the other monitor is for current work. All in all, this helps with managing tasks, people and resources fairly easily.
Tools that I uses
Collaboration
Asana (http://www.asana.com)
Asana is a simple task management tool, free for up to 15 users. I tend to use my personal Google account to login because I also use Asana in my personal like.
Asana is good for creating a project, a section, a task and assigning the task to a user with a due date. The task can be followed and commented so all involved can keep track of the project. There is a nifty progress status udpate comprising of a color (green, orange and red) and a status (e.g. This project is going faster than expected and below budget. Right...)
Google Drive (http://drive.google.com)
When it comes to file storage for business and enterprise, I choose Google Drive over Dropbox for its functions and security. I create projects folders for documentation, reports, source files, etc.
Communication
Slack (http://www.slack.com)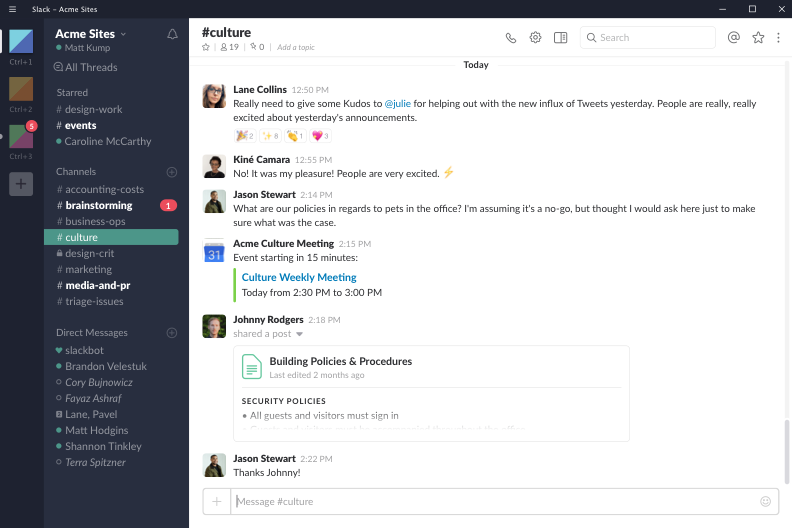 Slack is the usual the go to place for more modern and collborative communication. Most importantly, it integrates with Asana so when a new task is created, it can update a user on Slack. Amazing!
Project Tracking
Jira (https://www.atlassian.com/software/jira)
Especially for projects using user stories and sprints, Jira is popular for its methodoligcal approach to Agile development. It is priced faily high but the cost to benefit ratio is more than sufficient.
Gantt charts using Microsoft Project (https://products.office.com/en-my/project/project-and-portfolio-management-software)
For obvious reasons.